File, Photo & Drive Recovery.
Computer
Service,
Repair,
Upgrade,
& Support.


The Crescent, Yea, Victoria 3717




Tel : 0481 362 743




www.ycs.com.au

Visit our True Local entry.

---

Are you a computer repair shop or a private investigator wanting to add that extra service? Call to become a partner.

---

Data Recovery Notes:

If you've accidentally deleted files, stop using your device. You could overwrite the data completely.

---

If your HARD DRIVE gets water damage it is better to keep it sealed till you get it to us, slowing rust and erosion...

---

Spread your backups across multiple device types, such as a hard drive, memory stick and other computers.

---

If your hard disk starts making odd noises stop using it and get professional help.
File, Photo & Drive Recovery
If your hard disk, USB or other device has failed or you can no longer access your files, we can help! We are specialising in data recovery from all forms of storage. Turn off your computer as soon as you can and do not use it again to improve the chance of recovery.
Free SMART Disk check
Grab our free SMART hard disk check utility for a free Checkup report emailed in PDF format. DOWNLOAD All our software is virus free and security signed for your safety. Please notify us immediately if you have issues.
Ransomware Recovery
Have you been Ransomed? Got a big red angry screen demanding money? In many cases we can recover your files. Unless you know what you are doing please do not attempt recovery as you may cause more damage.
Ransomware - a little paranoia is good!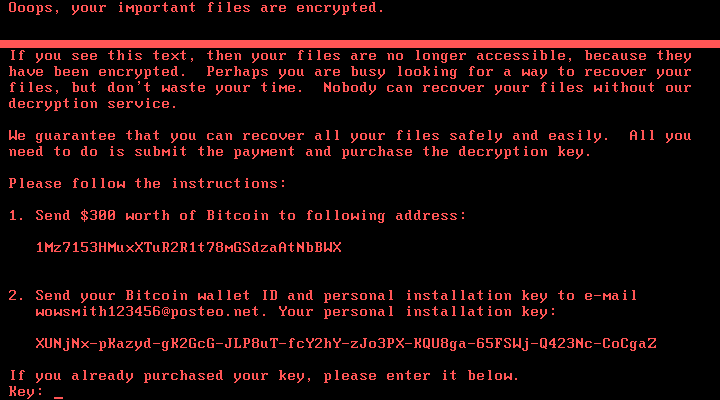 Be wary opening emails & web sites. If your security suite offers a warning, heed it. It is easier to undo a block than a ransom.
Prepaid Technical Diagnosis
So you have a problem but you do not know what is wrong. Our technical diagnosis will reveal all and quote the repair for you. If you decide to fix the system we will deduct the diagnosis from the final invoice. Call to get us to pick the system or arrange a time to drop it in.
Malware Cleanup
Full Malware clean of your PC or laptop using the very best tools. A full printed report of anything found is given to you showing before and after. Even find out how much Adware is on your system; you will be surprised.
Remote Support Session
Need help but have no-one to turn to?
Is your computer acting oddly or you simply need to be shown how to do a particular task? Grab this opportunity now! Buy one or more 20 minute sessions at this special price.
PC Service
Physical clean internally and externally. Check all fans and moving parts inside your PC. You will be notified of any parts requiring replacement. You will be contacted to authorise any further repairs.
Mobile and Tablet Repairs
Screen Replacement, Button Replacement, Cover Replacement, Battery Replacement, Mainboard Replacement. We will quote on every job.
Improve Performance
If you feel your desktop/laptop is running slow then performing a cleanup on your drive and operating system will improve system performance and in some cases free up disk space.
Laptop Service
Physical clean internally and externally. Disassembly of laptop to ensure internals are truly clean. Check all fans and moving parts inside your Laptop. Any parts requiring replacement must be authorised by you.
Customer Assist Service
Are you suffering from direct debits, payments or other issues with your suppliers and cannot solve them? This unique service offers a quick way of reducing these issues without the pain of you waiting on the phone. Call now to discuss your issues.
---
Lenovo ThinkPad Edge E520 Core i3 2350M 2.3GHz 4GB 320GB Win 7 15.6" Webcam Laptop
Priced at $235.00
Lenovo ThinkPad X1 Carbon Core i5 3337U 1.8GHz 8GB 128GB SSD Win 7 14" Laptop
Priced at $499.00
Lenovo ThinkPad X220 Core i5 2520M 2.53Ghz 4GB 320GB Win 7 12.5" Laptop
Priced at $309.00
---
Open: 10am to 5pm Mon-Fri. After hours service is available by appointment, please call to arrange a time.
Please note: Your Computing Services records all calls to better serve you.
---